Same views in Tromsø and Québec
26 avril 2011 Par
webmestrecrbm
26th april 2011
"As we're thinking the same way, we have agreed to cooperate with Canada on biotechnology," says Norut CEO Ivan C. Burkow.
Norut's Department of Biotechnology and Barents BioCentre at the Tromsø Science Park are on the starting block. The new laboratories are ready and will be filled with state-of-the-art instruments, scientists and microorganisms in perfect union. The scientists will map the properties and bioactive components of known and unknown microorganisms, find new applications for the substances and lay the foundation for new companies in the region.
Future-oriented
"This is some of our most futuristic research," said Prime Minister Jens Stoltenberg while laying the foundation stone for the Science Park and Barents BioCentre about 18 months ago.
Did we have to go all the way to Canada in order to find a research environment that thinks just as futuristically as Norut and Barents BioCentre?
"The decision to cooperate with the Marine Biotechnology Research Centre (CRBM) in Rimouski in Québec can be attributed to the fact that we share a similar view about the context in which the biotechnology research shall occur," says Norut CEO Ivan C. Burkow.
"The structure of Barents BioCentre is unique and as far as we know the Canadian CRBM is the closest we come to other structures that work in the same manner with marine biotechnology business development."
Many similarities
Burkow recently visited CRBM and Rimouski's university, Université du Québec à Rimouski (UQAR). Given their geographic location in the north, population and proximity to the maritime environment, Tromsø and Rimouski have many similarities.
"The investment in marine biotechnology is central and Canadian authorities are investing significant sums to support this business oriented research," says Burkow.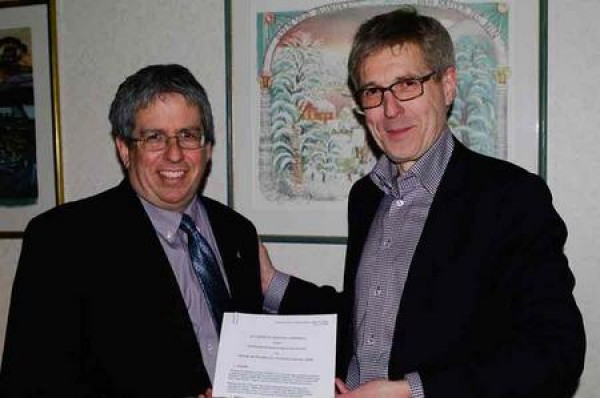 Executive Director Guy Viel from CRBM (left) and Norut CEO Ivan C. Burkow after signing of the cooperation agreement.
The agreement will involve close cooperation and the exchange of both knowledge and staff. The objective is to strengthen the innovative work and promote new applications. The cooperation agreement was signed in Tromsø during the Bioprosp 2011 conference.
New jobs
"At present we are announcing several new positions for biotechnologists. Those wanting to play a part in building up something completely new and engage in research in close collaboration with the biotechnology industry now have their chance," says Erling Sandsdalen, Research Director at Norut's Department of Biotechnology and Manager of the Barents BioCentre.
In addition, the way has been paved for research sabbaticals in Rimouski in Québec in Canada.
---